I was given an advanced copy of Armored Hearts to read and review. I must admit that I am a paranormal junkie (like you couldn't tell) and I have never read anything categorized as steampunk. To be quite honest, I didn't even know what it was. I mean, I'd heard of the term and I've seen some pictures, but it just didn't interest me enough to look any more into it. lol Don't get me wrong, I've heard really good things about the many books in this category, but like I said, I'm a paranormal romance kind of gal. I was pleasantly surprised by this book. Read on for my review of Armored Hearts.
When a crippled young lord rescues a girl falling from a tree, it reveals a secret about himself and his mother's side of the family that could put him at the center of a war with beings he thought only existed in fairy tales.
Tristan Gareth Smyth lived his entire life stuck at home at Waverly Park and left behind while his Grandfather makes trips to London, all because of his blasted wheelchair.
Then an American heiress falls in his lap, literally, and he must find a way to keep her at a distance to protect not only his secret, but everyone around him from an assassin sent to kill him.
*This is an exciting collaboration between a Steampunk writer and a Paranormal Romance author. Together we are blending the two cultures as seamlessly as possible so that fans of both genre will love what we've come up with.*
I devoured this book almost in one sitting! It started a bit slow, but once it started getting better, I just couldn't put it down. I read some of the other reviews for this book and one reviewer said that the characters "didn´t find their way into my heart". I have to disagree. I found Tristan Gareth dark and grumpy, but utterly adorable and he completely wormed his way into my heart, especially by the end. I understood his reasons for pushing everyone away. I didn't agree with his methods, but I understood. I saw past the cold exterior to the sweetheart inside. He used his rare talent to help those that needed help and he adored his younger aunt. He did make me cringe a few times with his comments about how his aunt wouldn't land a husband by flaunting her brain, but I had to keep reminding myself that this wasn't set in modern day, but in the past when that kind of thinking was common. He did have a moment of clarity that helped him start to open up to those closest to him and that made him even more endearing to me.
I enjoyed all the parts of this story. The setting is charming, the characters (besides grumpy Gareth lol) are likeable and there are secrets revealed that intrigued me. They kept me turning the pages at furious speeds and made this book worm very happy to have found this novel. I enjoyed this book and I can't wait to read more about Gareth. In the mean time, I'll have to settle for reading this one again. <3
~ About the Authors ~
Melissa Turner Lee holds a BA in Communications with a concentration in Journalism from the University of South Carolina. She has studied fiction writing since 2008, attending various writing conferences and workshops, along with guidance from professional writing coaches. She resides in Spartanburg, SC with her husband and 3 sons.
Twitter: @MelissaTLee1975
Pauline Creeden is a horse trainer from Virginia, but writing is her therapy. In her fiction, she creates worlds that are both familiar and strange, often pulling the veil between dimensions. She becomes the main character in each of her stories, and because she has ADD, she will get bored if she pretends to be one person for too long.
Giveaway
1 Necklace, 2 swag packs and a signed Paperback
a Rafflecopter giveaway
Check out the other blogs on this tour!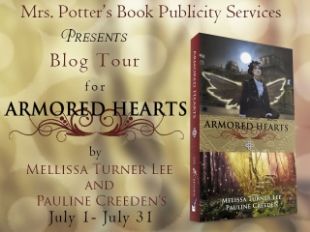 I hope you get this book and enjoy it as much as I did! Sharing good books is my passion. Enjoy!